Insulation & Ventilation
Keeping your loft conversion cosy with the latest multi-layer insulation technology, at an affordable cost — so that your loft will not be hot in summer or cold in winter!
We use a high tech Multi-layer Insulation Blanket For use in Roofs. It offers massive thermal insulation in a thin, flexible, multi-layer membrane, and has been tested by the National Physical Laboratory to show a 13.7% better performance than its nearest competitor and is guaranteed for the life of the building!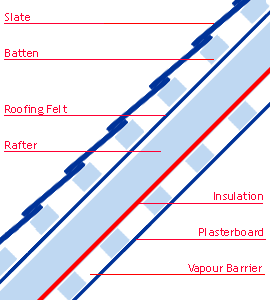 Insulation Spec:
14 layers of insulation:

2 outer layers of Metallic Foil
2 layers of Flexible Wadding
6 layers of Closed Cell Foam
4 further layers of Metallic Foil

Light Weight – only 9.5Kg per each 1.5m x 10m Roll
Low Bulk – 25mm thickness – approx equivalent to 200mm mineral wool/fibre
Tear resistant
Keeps heat in during Winter
Keeps heat out during Summer